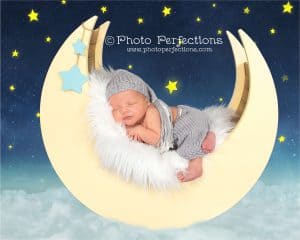 And the cow jumped over the moon….
I've been shooting newborn portraits for over 18 years. Newborns are my ultimate favorite. Sometimes, I tell myself I've mastered the art of posing newborns. After all, I have 20 years of experience taking newborn portraits. But practice makes perfect. I really love creating poses that refer to classic nursery rhymes.
Beautiful newborn portraits take time, attention to detail and patience. While a smile or sleeping poses are not guaranteed, if we plan accordingly, we have a 90% success rate if we follow these tips.
1. The younger the baby, the better. I recommend bringing your newborn during the first two weeks. At this age, they usually like to sleep and we can pose them nicely inside cute props.
2. Plan to spend some time at the studio. I recommend a weekday appointment for a more relaxed session. We are going to need some time to feed the baby and wait for your newborn to fall asleep.
3. Tummy time. Before your session try putting your newborn in his/her tummy so that she/he can get used to it. We have many tummy-time poses that are adorable and we'd like to be able to do those during your session if the baby allows.
4. Hold off on that latte. If you're breastfeeding, caffeine can get into your baby and we may have trouble putting your newborn to sleep. Wait until after the session.
5. Relax, we got you covered. You come to us, and we will make every effort to make it an awesome experience for you and your newborn baby. With almost two decades of experience, we've done it all. We are more than happy to answer any of your questions and concerns before your session. Let's plan ahead.
Photo Perfections offers luxury portrait experience that is customized for you in every way. There will be an experienced team of photographers, assistants, editors and digital artists working on your session to ensure a one-of-a-kind newborn portrait that you can cherish forever.